10 Reasons to Invest in an Ergonomic Office Chair
2023 Sep 27th
Are you looking for the perfect ergonomic office chair in Canada? Look no further than Office Seating! We specialize in providing high-quality ergonomic chairs designed to transform your workspace.
When it comes to working long hours in your office or from home, being comfortable is not only crucial to your health but also increases your productivity. That's why so many invest in quality ergonomic office chairs in Canada, like the ones from Office Seating.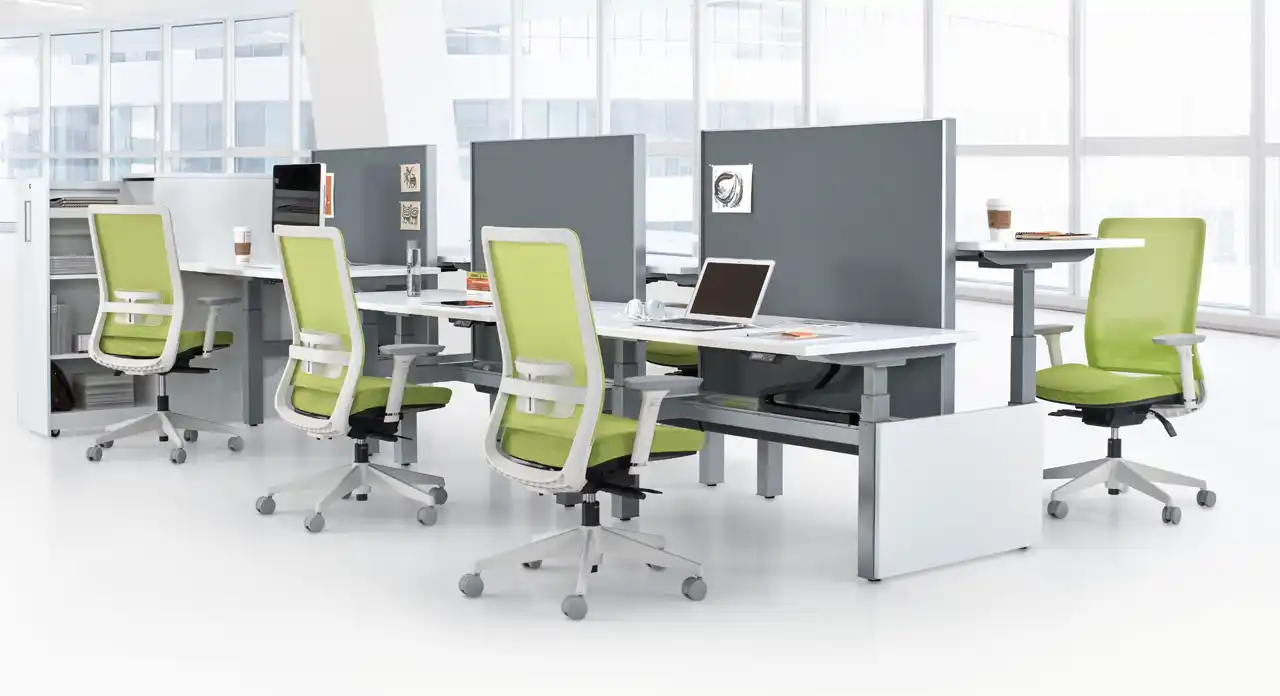 Here we've collected some of the leading benefits of using an ergonomic office chair throughout the workday!
1. Increased Productivity
As mentioned above, arguably one of the foremost advantages of ergonomic office chairs is that they keep you comfortable, increasing your daily productivity. You'll find the need to take fewer breaks and be able to focus on your work because you won't experience any aches and pains that often come from sitting behind the desk for long hours. In fact, recently the Washington State Department of Labor& Industries released a study that found a 25% increase in productivity from implementing ergonomic solutions at work.
2. Better Circulation
Researchers have found that sitting in the same position for even a timespan as small as an hour can cause poor blood circulation, in addition to an increased risk of heart disease, depression, and back pain. However, ergonomic chairs offer the optimal sitting position and enable you to easily adjust your position when needed, so your body doesn't remain in the same place for hours on end. This improves blood flow and circulation.
3. Enhanced Posture
An ergonomic chair is designed to improve your posture and reduce stress on specific points throughout the body. You don't need to lean forward because your chair isn't the right height, which causes back problems. All ergonomic chairs are designed to enhance the natural posture of the body.
Barry Einhorn, the owner of Barry's Office Furniture and a seasoned expert with over 43 years of experience serving Canadians, offers valuable insights: "The key to proper sitting in your ergonomic chair is ensuring that your buttocks naturally rest against the back of your chair without having to think about it." Barry's wisdom underscores the significance of ergonomic design and proper posture, which our chairs prioritize to enhance your comfort and well-being.
4. Minimized Pain
Those suffering from chronic aches and pains, like shoulder, back, and neck pain will find that it is greatly reduced when using an ergonomic chair during the workday. Traditional chairs aren't designed to support the body for long hours and cause a lot of unnecessary stress and pain. However, ergonomic chairs will reduce this pain and increase comfort.
5. Flexibility/Versatility
Ergonomic chairs are designed to be adjusted to every body size, height, and weight. There are even big and tall chairs for those who need them. They come equipped with a variety of adjustable features including seat height, armrest height, tilt, adjustable lumbar and neck support, and more.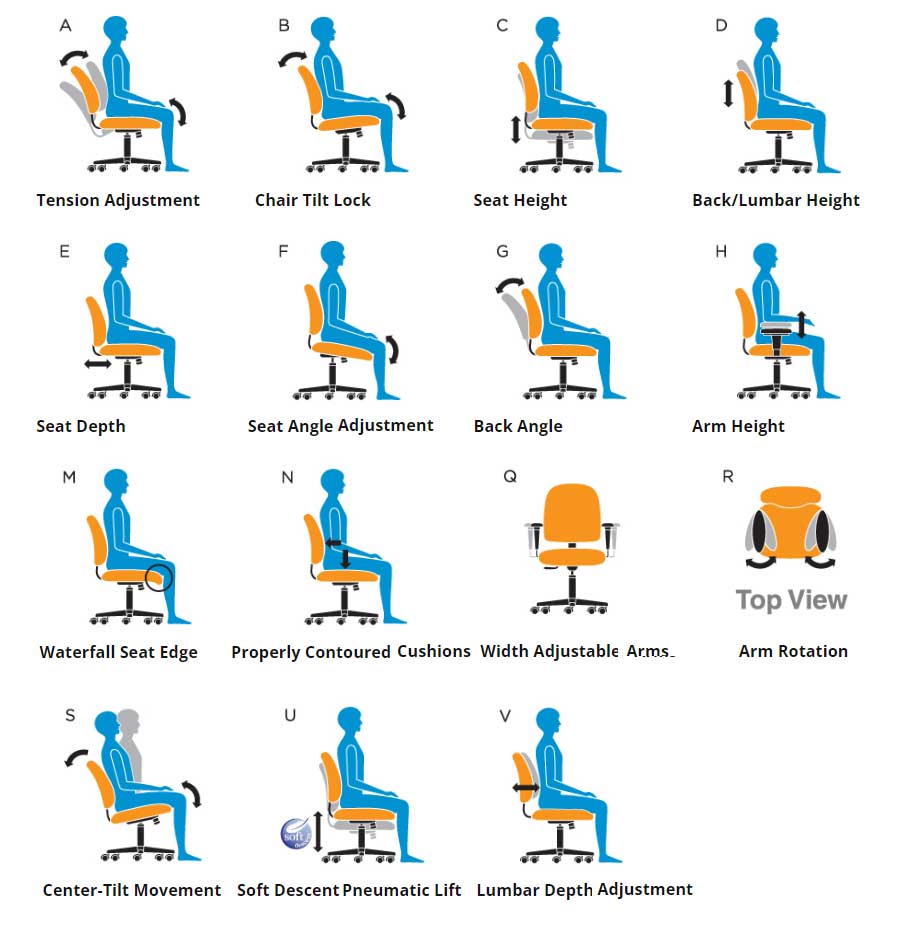 6. Hip Support
When sitting down, your hips often bear most of your weight unless you're using an ergonomic chair since their adjustable seat depth options will provide the proper seat depth to fully support them.
7. Extended Chair Lifespan
Our best ergonomic office chairs aren't only designed to be versatile but also to last much longer than a traditional office chair. They're built with today's most durable materials and features, meaning you won't need to purchase a new office chair every year because your old one no longer offers the right support, or its armrests become frayed. Additionally, many come with extensive warranties that help ensure your ergonomic chair provides the best return on investment.
8. Fewer Workers Comp Claims
For many businesses, worker compensation claims can be a costly thing that many times, might be a direct result of not providing the proper ergonomic seating in the workplace. Workers can develop chronic back and neck issues that require treatment and could cost your business money in terms of claims and added medical insurance to treat their ailments. However, investing in ergonomic office chairs can drastically reduce the number of annual claims.
9. User-Friendly Design
One of the best things about high-quality, ergonomic chairs is that they're designed to match every type of body size and style you can think of due to their versatile features. Some of today's leading ergonomic models focus on specific parts of the body while others are more general and can accommodate multiple body types. Either way, it's easy to find a chair/s that suits you and your team's needs.
10. Enhanced Safety Options
Ergonomic chairs are thoroughly vetted and tested before they're introduced to the market, so you can rest assured that you'll be investing in the safest and most high-quality office seating option available. Many of them have been lab-tested and come with guarantees, as well as extended or lifetime warranties that demonstrate their commitment to quality and providing the best ROI for you.
Guide to Choosing the Right Ergonomic Office Chair
This video guide provides essential insights for selecting the perfect ergonomic office chair, ensuring comfort, productivity, and long-term well-being in your workspace.
Compelling Reasons to Buy Ergonomic Office Chairs from Office Seating
Here are somecompelling reasons why investing in our ergonomic office chairs is a smart choice:
FREE Shipping: Most of our chairs come with FREE shipping, ensuring that you receive your new chair conveniently at your doorstep.
Fast Delivery: Experience quick delivery times, ranging from just 2 to 10 business days, so you can start enjoying your ergonomic chair without delay.
Exceptional Warranty: All our chairs are backed by an outstanding warranty, providing you with peace of mind and long-lasting support.
Trusted Brands: At Office Seating, we exclusively offer products from recognized and reputable brands like Global, Offices to Go, Icon Office Environments, and Office Star Products. These brands are known for their commitment to quality and ergonomic excellence, ensuring you receive the best-in-class office seating solutions.
Style and Aesthetics: Our chairs not only prioritize comfort but also come in stylish designs that elevate the look of your office or home workspace.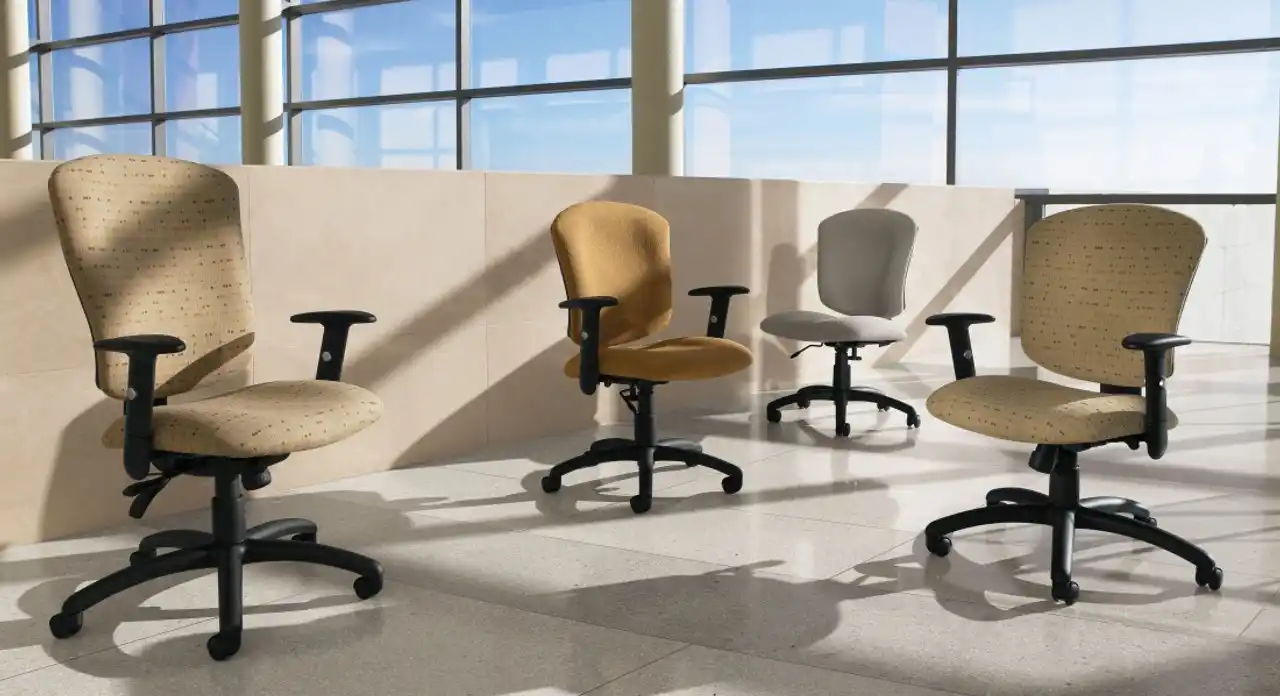 OUR Best Sellers!
Some of our most popular ergonomic office chair models include:
ObusForme® Comfort High Back Multi-Tilter Schukra: This ergonomic office chair is equipped with Schukra™ adjustable lumbar support and covered by a manufacturer's limited lifetime warranty. Additionally, it comes in a variety of options such as the knee-tilter, multi-tilter, operator, task chair, drafting operator chair, heavy-duty 24/7 multi-tilter, armchair, and side chair models. All are outfitted with an elastomeric back suspension system for even and gentle back support, as well as sliding arm caps for the perfect arm support.
Ibex Multi-Tilter: This quality ergonomic chair is designed with ultimate comfort and flexibility in mind. It features a multi-tilter mechanism for easy mobility in addition to infinite position tilt lock and tilt tension adjustment, and independent back & seat angle adjustment. Optional slide seat depth adjustment is available for those who need it, and all models feature dual wheel carpet casters and pneumatic seat height adjustment. The Ibex Multi-Tilter is backed by a manufacturer's limited lifetime warranty.
Tritek Ergo Select Standard Seat: The Tritek Ergo Select model provides users with the ultimate flexibility in terms of ergonomic customization, enabling you to create the perfect chair for your needs. This chair is designed to provide a wider range of choices than traditional task seating and you can customize the size, shape, tasks, and working preferences for which it will be used. It also offers a variety of seat cushion sizes and custom mechanisms for specific tasks, and 24-hour/multi-shift models are available.
online today for more information or email info@officeseating.ca.